When in Rome... lock your love on a lamppost
I was surprised to know that fact that people cover the lamppost with padlocks and chains in Italy.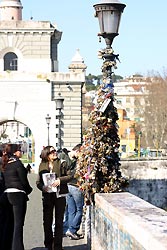 Frankly speaking, I have no objection to what kind of actions loves take for their eternal love.
The reason why I was surprised is that such "Legend of Padlock" has been very popular in Japan. However, I have thought the legend had come from the Western World...
Judging from the article such custom has been spread recently by the Federico Moccia's book published recently. That is, the history of the legend is not so long.
However, Japanese, having full of spirit of modesty and never claiming anything loud, may lose the chance that the legend is originally from Japan...
As the legend gets popular in the world, it will be mentioned that it is from Italy...

(Quote)
When in Rome... lock your love on a lamppost | News | Telegraph
Last Updated: 1:41am BST 10/08/2006
Rome's lovers are covering the city's oldest bridge with padlocks and chains to declare their passion.
The Ponte Milvio, by the Olympic stadium, was built in 109BC and stands on a main route into the city. Couples testify to their everlasting love by writing their names on a padlock and then clipping it to one of the chains that are wrapped around two of the bridge's lamp-posts.
They then throw the keys into the Tiber.
In the recent balmy summer nights, as many as 5,000 people have gathered on the bridge and in the piazzas on either side.
"They think the lock and chain means they will stay together forever," said Giorgio Canicarro, a local fruit-seller. "Thousands of them come every Thursday, Friday and Saturday night, always at around midnight. They meet here because this was the first bridge into Rome and so it is full of significance."
In recent days the fame of the bridge has swept through the city.
According to the newspaper Il Giornale, a 60-year-old Australian couple performed the ritual. "They were so sweet, even though I could not explain the ritual in English," said a café worker named Lucia.
A similar craze took hold in Florence last summer.
A team of metal cutters spent a week removing more than 5,000 locks from railings around a statue on the city's Ponte Vecchio.
Ponte Milvio: the bridge of love by Michelle Pellegrino Wanted in Rome
Once upon a time, on one of Rome's oldest bridges, Ponte Mulvius, valiant soldiers fought fiercely to their death for the love of their emperor, their religion, their country. Nowadays, hopeful young lovers lay down their hearts and pledge their undying devotion to each other on this very same bridge.
Ponte Milvio – also affectionately known as Ponte Mollo (soaked bridge) – has played a crucial role in Rome's history as the ancient consular roads of Flaminia, Cassia, Clodia and Veientana all led to it. Ponte Milvio is one of only three bridges still existent in the city which dates back to the Roman empire. It was the scene of many decisive battles, such as that between Constantine (the first Christian emperor) and Maxentius in 312 AD. Giuseppe Garibaldi blew up part of Ponte Milvio while attempting to hold back the advance of the French in 1849; Pope Pius IX had it lovingly restored to its former glory the following year.
Today, the bridge has become an important symbol for modern-day Romeos and Juliets living in Rome, who make their pilgrimage to Ponte Milvio and seal their love by placing a lock on the third lamp post from the Corso Francia side and throwing the key into the Tiber (the key should be thrown over the shoulders so as not to see where it falls), in a modern-day spell invoking eternal love.
This lamp post is certainly attention-grabbing. It is decorated with hundreds upon hundreds of locks, featuring the names and initials of the sweethearts. In the sunlight, these locks are an impressive sight; they shine like layers of tinsel on an over-decorated Christmas tree. You can't help but wonder how many keys must be lying in the Tiber's watery depths, guarding the secrets of so many lovers. The original lamp post is now so full that locks have begun appearing on other ones. This bridge is remembered in Romanesco songs and poetry as a meeting place for lovers and it continues to live up to its reputation.
The myth of the "love locks" all started with a very romantic book written by Federico Moccia (published in 1992) entitled Tre metri sopra il cielo (Three metres above the sky). Moccia was born in Rome in 1963, the son of a film scriptwriter. Initially he had trouble finding someone to accept his novel, so in the end he had it published privately, printing a limited number of copies. Moccia's book had such an impact among Rome's youth (particularly the 12-20 age group) that, being short of copies, they began to photocopy it. In 2004, Feltrinelli seized the opportunity to publish a new edition and the book has since sold over 800,000 copies across Europe, Japan and Brazil.
The story is about two teenagers from very different backgrounds, Babi and Step, who despite all odds fall in love with each other. The two protagonists were the first to perform the ritual of placing a lock on the now-famous third lamp post and throwing the key into the Tiber.
The book was made into a movie in 2004 and enjoyed a huge success. An urban legend was born. Although it is predominantly Italian teenagers who follow this romantic creed, the strong symbolism of eternal love on such a historic bridge in Rome has attracted some mature lovers from foreign lands as well. "A 60-year-old couple from Australia came and placed a lock too," grins a local pub owner.
Sadly, there are some broken-hearted lovers who haunt the old bridge. A man at a local hardware store – who does a thriving business selling locks to the many lovesick couples that flock to this area – recounts: "This poor guy came in here one day. His girlfriend had left him and he wanted to break the lock. The first pair of pliers didn't work, so he walked up and down several times, trying different things." He laughs. "He was determined to break that lock! It took him a while but in the end he succeeded."
Among its many suitors, Ponte Milvio can now also boast the attentions of the Rome city council, which is holding a Valentine's day competition and has aptly decided to centre it around Ponte Milvio. Simply send an unashamedly romantic sms or e-mail and "the fairest of all" messages will win a shining gold lock to attach to the lamp post.
(Unquote)
~All Entries~